Specific Application Sorbents
Bilge Booms, Large Onion Sack Draw String Bags, Drip Pans, Drum Top Pads  and so many more types of sorbents are available to meet practically any application. Plus custom where minimum volumes require.
Specialty Sorbents also make and excellent addition to your spill kit contents.
Sorbent Pillows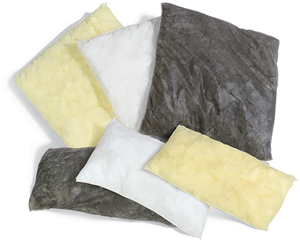 Pillows are perfect for stubborn or larger volume leaks in confined and out of the way areas. Can also use with a drip pan for easy change-out. The larger pillows can absorb over two gallons per pillow.
Choose from Universal, Oil Only and Haz Mat:
Available sizes ensure these fast and easy response sorbents can be deployed quickly.
10″ x 10″
8″ X 18″
18″ X 18″
Large draw string pillows in various sizes
Bilge Socks and Booms
Commonly referred to as "Bilge Booms". these Oil Only Absorbent Products can be used in a very broad range of application.
Bilge Booms and Socks are part of the larger family of socks and both 5 inch and 8 inch booms. See absorbent socks and booms webpage.
Oil Only
Common sizes:
3 inch x 18  inch socks
5 inch and 8 inch x 18″ inch booms
End loops are provided for easy retrieval when the job is done.
Drum Top Pads
Drum top pads are an ideal way to capture occasional drips and leaks on the top of a 55 gallon drum.
Available in Oil Only plus Universal for most liquids.
Each pads is 22 inches in diameter with two openings to allow for 3/4 inch and 2 inch drum bungs.
 LEARN MORE ABOUT COTTON SORBENTS